COVID-19 FREE Testing (Testing sites and Registration link below)
Testing Sites and Registration
Community testing events serve the residents of Missouri. DHSS is partnering with the Missouri Community Health Centers and MAKO Medical Laboratories to offer these free testing events. There is no eligibility other than to have a Missouri address.If you do not see any community testing events in your area, you can continue to check back with this page as new sites will be added as events are planned.
The test is a PCR test done by an anterior nares or midnasal swab to determine the presence of SARS-CoV-2, the virus that causes COVID-19. This is not an antigen or antibody test.
Registration Strongly Recommended:
Please register for an event by clicking on the registration link associated with each event. If you need assistance, you may call 919-351-MAKO (6256). Please double-check the spelling of your name and your date of birth. This information must be exactly correct to receive your results. Upon completing the registration, you will receive an email with your QR Code and booking ID number. Show this QR Code and booking ID number to the site attendant in order to proceed with your test.
Please allow at least 30 minutes for completion of testing upon arrival to the testing site. Delays may occur in the event of inclement weather. Walk-ins to the event without prior registration cannot be guaranteed a test.
Test Result Notification:
Once tested, you will be notified of your results within 4-5 days (if you have registered for the patient portal). To register for the patient portal, text "MAKO" to 66349, or scan the QR code below. You can also sign up to register for results at https://mako.luminatehealth.com/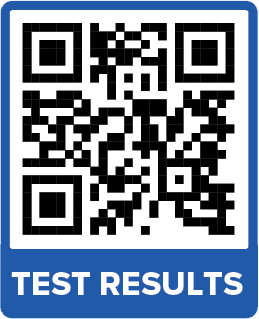 Testing Sites and Registration:
Test site details for the next several weeks listed below. Please click on the associated registration link below to register from your phone or computer.
| COVID Testing Date | COVID Testing Times | COVID Testing City | COVID Testing County | COVID Testing Address | Registration | Location Number |
| --- | --- | --- | --- | --- | --- | --- |
| Feb. 25, 2021 | 12PM - 3PM | St. Louis | St. Louis City | Affinia Healthcare 1717 Biddle Street St. Louis, MO 63106 | Register for this event | 15160 |
| Feb. 25, 2021 | 10AM - 4PM | St. Charles | St. Charles | Harvester Christian Church, 2950 Kings Crossing St., Charles, Missouri 63303 | Register for this event | 17723 |
| Feb. 26, 2021 | 9AM - 11AM | St. Louis | St. Louis County | Riverview Gardens High School, 1218 Shepley Dr., St. Louis, MO 63137 | Register for this event | 16453 |
| Feb. 26, 2021 | 9AM - 1PM | Lamar | Barton | ACCESS Family Care, 210 W. 10th Street, Lamar, Missouri 64759 | Register for this event | 16449 |
| Feb. 26, 2021 | 12PM - 4PM | Kansas City | Jackson | Kansas City Zoo (Cheetah Parking Lot on south side of zoo), 6800 Zoo Dr., Kansas City, Missouri 64132 | Register for this event | 15909 |
| Feb. 26, 2021 | 10AM - 2PM | St. Joseph | Buchanan | St. Joseph Aquatic Center, 402 South Noyes Boulevard St., Joseph, Missouri 64501 | Register for this event | 17777 |
| Feb. 26, 2021 | 12PM - 3PM | Columbia | Boone | Moser's Foods Parking Lot, 705 Business Loop 70 West, Columbia, MO 65203 | Register for this event | 17778 |
| Feb. 26, 2021 | 8AM - 12PM | St. Louis | St. Louis City | CareSTL Health, 2425 Whittier St., St. Louis, Missouri 63113 | Register for this event | 15895 |
| Mar. 1, 2021 | 9AM - 4PM | St. Louis | St. Louis City | CareSTL Health, 2425 Whittier St., St. Louis, Missouri 63113 | Register for this event | 15895 |
| Mar. 1, 2021 | 9AM - 3PM | Kansas City | Jackson | Bruce R. Watkins Cultural Center, 3700 Blue Parkway, Kansas City, Missouri 64130 | Register for this event | 15904 |
| Mar. 1, 2021 | 8AM - 5PM | Lexington | Lafayette | Health Care Collaborative of Rural Missouri, 825 S. Business Hwy 13, Lexington, Missouri 64067 | Register for this event | 15169 |
| Mar. 1, 2021 | 8:30AM - 11:30AM | Florissant | St. Louis County | James J. Egan Civic Center, 1 James J. Egan Drive, Florissant, Missouri 63033 | Register for this event | 16623 |
| Mar. 1, 2021 | 9AM - 1PM | Ozarks | Christian | First Baptist Church of Ozark (North Parking Lot), 1400 W. Jackson Street, Ozarks, Missouri 65721 | Register for this event | 17779 |
| Mar. 1, 2021 | 8AM - 10AM | Kansas City | Jackson | Bartle Hall (Front Entrance on 13th Street), 301 W. 13th Street, Kansas City, Missouri 64105 | Register for this event | 17728 |
| Mar. 2, 2021 | 12PM - 3PM | St. Louis | St. Louis City | Affinia Healthcare, 1717 Biddle Street, St. Louis, MO 63106 | Register for this event | 15160 |
| Mar. 2, 2021 | 8:30AM - 2PM | Cuba | Crawford | Mace Supermarket, 20 N. Franklin Street, Cuba, Missouri 65453 | Register for this event | 16613 |
| Mar. 2, 2021 | 9AM - 4PM | St. Louis | St. Louis City | CareSTL Health, 5471 Dr. Martin Luther King Drive, St. Louis, Missouri 63112 | Register for this event | 15162 |
| Mar. 2, 2021 | 8AM - 12PM | Springfield | Greene | Old Price Cutter Building, 1720 Grand Street, Springfield, Missouri 65802 | Register for this event | 15980 |
| Mar. 3, 2021 | 8:30AM - 4PM | St. Louis | St. Louis County | NAACP St. Louis County Building, 26 North Oaks Plaza, St. Louis, Missouri 63121 | Register for this event | 16297 |
| Mar. 3, 2021 | 9AM - 3PM | Jefferson City | Cole County | American Legion, 1423 Tanner Bridge Road, Jefferson City, Missouri 65101 | Register for this event | 15938 |
| Mar. 3, 2021 | 9AM - 6PM | Kansas City | Clay County | Worlds of Fun, 4545 Worlds Of Fun Ave., Kansas City, Missouri 64161 | Register for this event | 15886 |
| Mar. 3, 2021 | 9AM - 12PM | Cape Girardeau | Cape Girardeau | Agricultural Barn (At Corner of Expo Way & Jaycee Drive, 410 Kiwanis Drive, Cape Girardeau, Missouri 63701 | Register for this event | 15921 |
| Mar. 3, 2021 | 8:30AM - 11:30AM | Florissant | St. Louis County | James J. Egan Civic Center, 1 James J. Egan Drive, Florissant, Missouri 63033 | Register for this event | 16623 |
| Mar. 4, 2021 | 12PM - 3PM | St. Louis | St. Louis City | Affinia Healthcare, 1717 Biddle Street, St. Louis, MO 63106 | Register for this event | 15160 |
| Mar. 4, 2021 | 10AM - 4PM | St. Charles | St. Charles | Harvester Christian Church, 2950 Kings Crossing, St. Charles, Missouri 63303 | Register for this event | 17723 |
| Mar. 5, 2021 | 9AM - 4PM | St. Louis | St. Louis City | CareSTL Health, 2425 Whittier St., St. Louis, Missouri 63113 | Register for this event | 15895 |
| Mar. 5, 2021 | 9AM - 1PM | Joplin | Jasper | ACCESS Family Care, 530 S. Maiden Lane, Joplin, Missouri 64801 | Register for this event | 15915 |
| Mar. 5, 2021 | 10AM - 4PM | Kansas City | Jackson | Kansas City Zoo (Cheetah Parking Lot on south side of zoo), 6800 Zoo Dr., Kansas City, Missouri 64132 | Register for this event | 15909 |
| Mar. 5, 2021 | 8:30AM - 2PM | Cuba | Crawford | Mace Supermarket, 20 N. Franklin Street, Cuba, Missouri 65453 | Register for this event | 16613 |